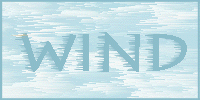 What force I am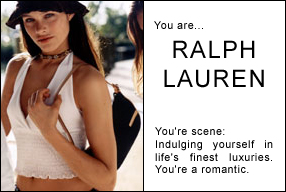 What prep label I am

What piercing I am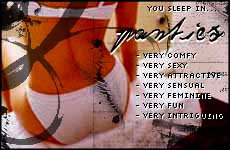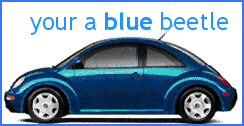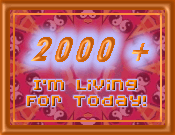 What era in time I am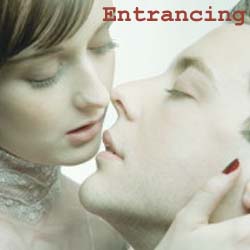 What type of kiss I am
What swear word I am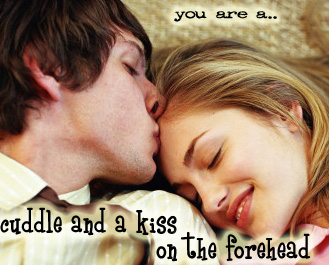 What Sign of Affection I am
!!!Try Some Quizzes Yourself!!!
?!?Is Your Crush A Player?!?
1) At the school dance, you can usually spot your crush:
a) Dancing with a group of his male and female friends.
b) Chatting up the ladies on the dance floor.
c) Mostly hanging with his guy friends away from the dance floor.

2) In History class, the teacher asks everyone which historical figure they would like to have been. Your crush answers:
a) Casanova.
b) Ghandi.
c) King Arthur.

3) While checking out the rentals at your local video store, you spot your crush doing the same thing. What video does he choose to rent for the night?
a) A Walk to Remember.
b) Jackass.
c) Sports Bloopers.

4) What do your friends all say when you confess to them that you're interested in your crush?
a) Oh, I've dated him!
b) Really? He was just asking about you last week.
c) Who is that?

5) When you see your favorite guy interacting with other girls, he seems to be:
a) Flirting like there's no tomorrow.
b) Talking confidently.
c) Nervous.

6) What does your crush doodle on the front covers of his school binders?
a) Marvin the Martian.
b) The names of his favorite bands.
c) Girls' phone numbers.

7) You have finally managed to get your crush to phone you! During your conversation:
a) He seems to be interested in whatever you say.
b) You hear someone else on the line. When you ask who it is, your crush says, "Oh that's my mom."
c) He gets call-waited every 30 seconds, and each time you end up waiting on hold for several minutes while he takes the call.

8) Omg... you got up the nerve to ask out your crush, and he said yes! When you ask him when's a good time this weekend, he says:
a) I'm totally free all weekend, so whenever.
b) Is Saturday okay? I've got karate class on Friday night.
c) Let's see... I guess I can fit you in between seven-thirty and nine on Sunday night.

9) During the date, you ask your crush who he's dated before. He tells you:
a) Just a couple of girls, nothing serious.
b) Oh you know, I've dated a bunch of people. You don't know all of them.
c) I haven't really had a girlfriend yet.
RESULTS
QUIZ RESULTS: IS YOUR CRUSH A PLAYER?
ADD UP YOUR SCORE:
1) a=1, b=2, c=0
2) a=2, b=0, c=1
3) a=0, b=1, c=2
4) a=2, b=1, c=0
5) a=2, b=1, c=0
6) a=0, b=1, c=2
7) a=1, b=0, c=2
8) a=0, b=1, c=2
9) a=1, b=2, c=0
14 POINTS OR MORE POINTS: YOUR CRUSH IS A PLAYER
The person you have chosen to crush on is a major player. He's seen more action than the armed forces! Unless you like to get your heart broken, run away! This guy is not the type who wants to settle down with just one girl. Plus if you two ever hook up, he might talk about it to every guy he knows. Don't play his reindeer games - you deserve way better! Forget this player and find yourself a more worthy guy to crush on.

0 - 13 POINTS: YOUR CRUSH IS A GOOD GUY
The person you've fallen for seems to be the real deal. You've got good instincts when it comes to crushes. This one is worth your attention. As always when dealing with boys, proceed with caution, but proceed. Let your brain and your female instincts be your guide and you'll do fine. But keep your eyes open... just because he's not a player now, doesn't mean that he won't be named a player, later!


1) For you, a typical day at the mall involves:
a) Hanging out with friends.
b) Some light shopping.
c) Everything I live for.

2) You're walking in the mall and a customer approaches you and asks where a certain store is. You:
a) Point in the direction of the store.
b) Show them exactly where the store is and tell them everything about every item and employee they'll find in the store.
c) Shrug and say "I'm not sure."

3) Can you, in your head, picture exactly where the ATM machine is in the mall?
a) Yes, of course!
b) I'm pretty sure I know where it is.
c) I don't know.

4) If you could sum up your mall knowledge in a single word, that word would be:
a) Clueless
b) Home
c) Fun

5) You get to the mall and it's closed. What do you do?
a) Get really upset.
b) Whatever... you go somewhere else.
c) Shrivel up and die.

6) Can you state the exact opening and closing times of your mall?
a) I think so...
b) Yes, my entire life is organized around mall hours!
c) Nope.

7) A mall employee sees you enter the mall. What does he/she do?
a) Nothing.
b) They wave at you.
c) They greet you by name.

8) Which of these expressions describes the way you feel about the mall?
a) In and out.
b) Time flies when you're having fun.
c) You are the sunshine of my life.

9) If you were locked in the mall by yourself, you would:
a) Get pissed off.
b) Think, "cool!"
c) Fall on your knees and thank the heavens for this bounty.

10) When someone says something bad about the mall, you:
a) Shrug your shoulders.
b) Agree with them.
c) Get really angry and tell them why they are wrong.
Results
ADD UP YOUR SCORE:

1) a=1, b=2, c=3
2) a=2, b=3, c=1
3) a=3, b=2, c=1
4) a=1, b=3, c=2
5) a=2, b=1, c=3
6) a=2, b=3, c=1
7) a=1, b=2, c=3
8) a=1, b=2, c=3
9) a=1, b=2, c=3
10) a=2, b=1, c=3
0 - 15 POINTS: YOU'RE NOT A BIG MALL PERSON.
You probably know where your local mall is located... but for you it's a place to shop for items that you need, not a regular destination. You visit, buy what you want and get out pretty quickly.

16 - 24 POINTS: YOU ARE A NORMAL SHOPPER.
You like the mall okay. It's kind of fun to hang out with friends there, but it's not your whole life. You don't go overboard on the spending as a rule, and you have other activities besides shopping.

25 OR MORE POINTS: YOU ARE A MALLRAT!
For you, all roads lead to the mall! You worship at the ATM and pay your respects at the cash register. Your entire sense of happiness is tied up in shopping, hanging out the food court and cruising for hot mall babes. Yeah, the mall is fun... but try out some other activities sometimes. You're going to end up broke!